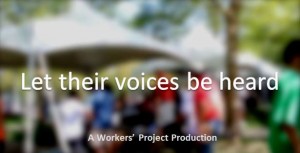 Sunday, April 23, 2017
2:00 PM
Allen County Public Library Theatre
900 Library Plaza, Fort Wayne, IN
The Workers' Project invited attendees of the 2016 Organized Labors' Labor Day Picnic to step in front of a camera and share their concerns about the most pressing community issues. This documentary is a compilation of these citizens' concerns, hopes, and dreams for our community. The documentary also features several Workers' Projects volunteers and their vision for developing a community of empowered workers. The creators of the documentary will be available afterward to discuss the film. Workers' Project volunteers will also be available to share how they are bringing voice and power to workers in Northeast Indiana and beyond.
View the documentary trailer on YouTube https://www.youtube.com/watch?v=D6oqpibEEvI&feature=youtu.be
Tickets can be reserved online https://www.eventbrite.com/e/let-their-voices-be-heard-a-workers-project-production-tickets-33358168179
Find this event on Facebook https://www.facebook.com/events/367108033682759/